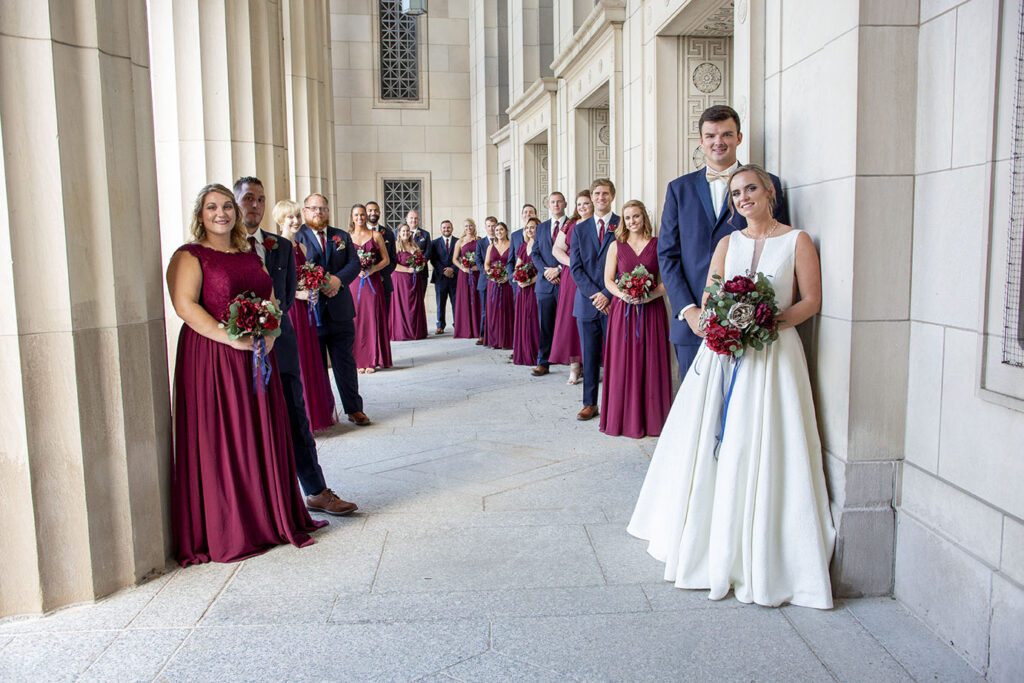 Chris and Erin gave me a heads up that they were going to have a large wedding party for their Jackson wedding, but seeing all eighteen of them together was a sight to see. With that many people in their wedding party, you can really tell that the two of them are loved by so many. Everyone was so fun and easy to work with, sometimes getting the wedding party to listen and follow directions can be like herding cats. However that was not the case with them, they made the photos happen so quickly!
When I arrived Erin was getting the finishing touches done on her makeup. The other girls were busy steaming their dresses and getting last minute details ready. Her flower girl was playing shy on her mom's lap, watching everyone run about around her. I took some of the detail images and helped Erin decide that the glitter shoes were definitely the way to go! When in doubt, choose glitter. Then we had a quick visit from a super happy golden doodle before heading to St. Mary Star of the Sea Catholic Church in Jackson.
St. Mary's Star of the Sea Catholic Church
I had photographed a Jackson wedding before at that church so it was nice to know what to expect for lighting and the layout. Since the church was built in 1926 with Romanesque Revival architecture, the inside is so ornate and beautiful. It is a bit dim inside, but there is a soft warm glow around the altar. The getting ready room was a bit cramped with such a large wedding party, however it does have a huge mirror that would be great for photos if lit better. Thank goodness for off camera flashes to take care of bad lighting! There are 5×7 photos of past brides all over the walls in the room as well. Fun fact: Erin's grandmother was married in the same church and her photo hung for a long time in the getting ready room.
Downtown Jackson Wedding
After the ceremony, we had a mini tour of downtown Jackson. First stop was the historic Post Office, now part of the Consumers Energy headquarters, to do photos of the wedding party. It has such cool architecture with huge columns and great lighting! From there, we headed over to one of the Bright Walls murals. I love that the city commissioned the murals, it makes for such a colorful backdrop for Jackson weddings.
The wedding party boarded the party bus and headed to Erin's parents' house for the reception. Before the DJ announced them, we took a couple of photos of them and their three dogs. Their fur babies were absolutely thrilled to have mom and dad back. There were puppy kisses galore to go around!
After they were announced, dinner was ate, and the first dance was done, it was time to kick up our heels. They had a Polka band there, the same Polka band that played at Erin's parents wedding! As soon as they played that first note, family took to the dance floor. They glided quickly around the dance floor with their feet kicking here and there. It was quite a sight to see for sure and even grandpa got in on the action! Family traditions like learning the Polka don't happen too often these days. It makes me so happy to see something so special being taught to younger generations.
Vendors
Erin's Hotel: Home 2 Suites – Jackson
Chris' Hotel: Holiday Inn – Jackson
Ceremony: St. Mary Star of the Sea Catholic Church
Reception: Erin's parent's house
Wedding Coordinator: Happily Ever afTer – Carolyn 248-729-1675
Officiant: Fr. Tim Nelson
Erin's Dress: Fantastic Finds in Lansing
Caterer: A Catered Affaire
Cheesecakes: Anne Kueffner
Hair & Makeup: Simply Stunning Bridal
DJ: Mid Michigan Entertainment
Polka Band: The Hy Notes