I'm going to be completely open and vulnerable here. Most people would say that 2020 has been a rough year, but for me 2018 was way worse. My marriage wasn't going well, I was over worked, and had run myself into the ground. I was at my breaking point. Throughout my divorce I did not discuss it on any social media, as I was ashamed that I was not able to make it work. Growing up, I always said that I was only going to get married once. That no matter what, we would fight for each other. We were going to be together for life. What I didn't prepare for was when the arguments started to become physical and the infidelity. I will tolerate a lot including the infidelity, but physical violence is not one of them.
The Divorce Backstory
Before I get started, I am not telling you any of this for pity. I don't want that. Everything that has happened has made me a stronger person and better mother. I truly believe that everything happens for a reason, even if it's difficult to see why in that season. However, I also believe it's important to know the full story to understand how it effected my photography business. So let's begin…
Despite a crumbling marriage, in February 2018 we found out I was pregnant with my second child. When I was 20 weeks along I was shocked to find out that my second child was actually two children and I was having twins! I had always wanted twins, but this was not the ideal situation I wanted to have them in. Regardless, I was nervous and excited to have two babies to love on.
It Gets Worse Before it Gets Better
As the summer went on a few arguments escalated, law enforcement had gotten involved, and I filed for divorce in the middle of September. I had been upfront with him when I told him I filed and after that things seemed to have gotten a little better. The twins were born on October 1st, and we were back in survival mode with two newborns.
On the 19th he had a pre-trial where the judge issued him a no-contact order and effectively making me a single parent. That season was extremely difficult for me. I was trying to recover from a c-section while taking care of my two year old and newborn twins. For the first few months I was sleeping in the recliner as I could barely sit up on my own. I was beyond exhausted. Asking for help has never been easy for me, but I took all the help I could get. I am beyond thankful for my village. Who knows where I would be without them.
It wasn't until February 2019, just before the twins turned 6 months old, that the no-contact order was lifted. They were still nursing so visitation with my ex was only allowed with our oldest daughter. Until the twins weaned, they wouldn't have any extended visits. A few months later in May our divorce was finalized.
Taking a Step Back
Naturally with everything happening, I took a step back from photography. I love my business, I pour my heart and soul into it. However I did not have the energy to give it my full attention and I took on very limited clients during those two years. I was questioning if I wanted to continue photographing weddings. I wanted to make sure I could still give my couples the quality and service they deserved. On social media I didn't announce anything because I felt like a fraud. How was I supposed to be a wedding photographer celebrating love when I didn't even know if I believed in marriage anymore? Still, I put on a brave face and photographed my couples just the same.
Picking Myself Back Up
Each wedding broke my heart. I grieved for the love that I thought I had. I wanted so badly to have my happy ending back, and I missed having my person to share my days with. Of course over time it got easier. Keeping up with the three littles kept my mind fairly occupied. Still, life wasn't easy adjusting to being the sole caregiver to the kids, but also now the only income providing for them.
Once the divorce was final our lives changed rather quickly, I got a new 9 to 5 to be closer to home and the kids, they were at a new daycare only minutes away from my job, and I was gazelle intense on my budget (courtesy of Dave Ramsey's "Total Money Makeover"), but I was barely scraping by. I knew that I needed to make some changes if I was going to make things work.
So How Did Divorce Help?
Don't worry, there is a point to all of my rambling and how my divorce made me a better wedding photographer.
Fast forward to the end of 2019. After lots of thought, I realized that while I was in survival mode in my personal life, I wasn't giving my best self to my couples. Also I knew that I wanted to make sure that I could be there for my kids when they needed me. I buckled down on wasting time scrolling social media and became very intentional with how I spent my time and energy. My focus word for 2020 is deliberate. I am consciously using my actions and time to better myself. Not just for me, but for everyone around me as well.
01 | Your Experience
The first thing I wanted to focus on was your experience working with me from start to finish. Between working with a graphic designer on a new logo and redesigning my website, I have gone through a complete re-brand. I polled a broad variety of couples to find out what they looked for when shopping for a wedding photographer. Many couples said they felt like they were wasting time needing to email photographers about pricing and availability, so I made sure to have both of those on my website. Time is precious, so if I can help you in any way to save time when planning your wedding I will do so.
Contracts, invoices, and questionnaires have all been digitized and automated. Again to save everyone time and make things as easy as possible. The final galleries are available online and for digital download. If you choose, you can purchase prints directly through your gallery. I have upgraded the wedding collections and added a few new heirloom products which I am super pumped about!
Currently, I'm working on creating helpful guides to give to my couples throughout their planning process. I want to make sure I'm touching base every couple of months from booking until your wedding to see if I can help with anything and make sure you know that I am still here for you. Lastly, I did a lot of research on how to be more inclusive. I have never wanted anyone to feel left out and I really hope that shows throughout my site and brand.
Overall, I want to make sure you have an unforgettable experience. To look back on your wedding photos with pride, knowing you made the right choice in choosing me to be your photographer.
02 | Remembering the Basics
After being a photographer for 12 years, sometimes I find myself falling into the same pattern of doing things. Over the past year I have been challenging myself to relearn the basics of light and how to manipulate it. I invested in some upgraded lighting equipment and wireless triggers. These will be perfect for gorgeous sunsets, dark venues, or even bright sunny days. I'm sure my kids are sick of me always using them as subjects to test new ideas on, but they're perfect for it. During a wedding, events are fast paced. I don't have time to take a ton of test images to make sure things are correct. By photographing my kids, which don't ever stop moving, it gives me the best practice I can get to nail my settings quickly.
Posing is another aspect of photography that can get "stale." I have been researching new posing ideas and how to ensure I capture the raw emotion that is so dreamy in photos. It's been a ton of fun figuring out what works with couples and seeing the final photos. It's like magic when I click the shutter and know I have captured gold!
03 | Believing Again
Marriage is not something that is easy. I mean, it probably is easier with the right person, but you still have to work at it to make sure it stands the test of time. And for awhile after the divorce, I didn't know if I thought that was a thing that could really happen. Many late night conversations with myself later (that happens when you're the only adult in your house), I've realized that photographing weddings is my true passion. Just because mine didn't work out, doesn't mean that happily-ever-after's don't happen at all. I just happened to be cast with the wrong co-star in my story.
Seeing it Through Someone Else's Lens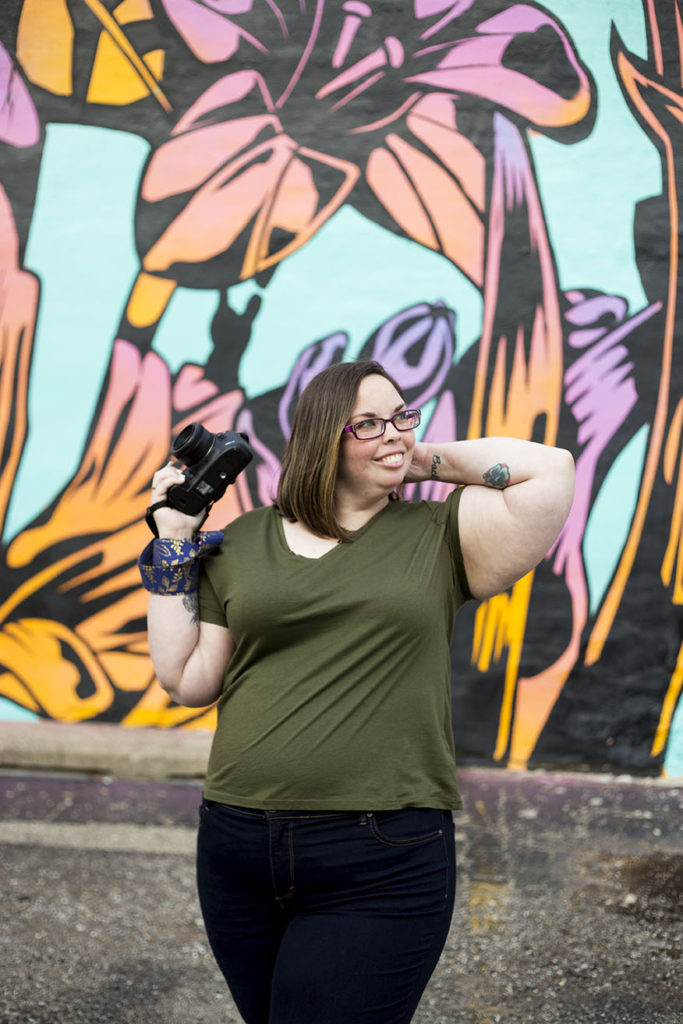 It's like the old saying goes, "You don't know what you're missing, until it's gone." It took me loosing my marriage to realize that love does exist and even though we weren't together any longer, at one point we did love each other.
What it all boils down to is that I adore getting to play a role in your wedding! We spend all day together, I meet the most important people in your lives, share in some great stories…maybe some tears too, and get to witness you start a new chapter of your life. Being a wedding photographer is nothing short of extraordinary. I can't wait to tell your love story!
If you made it through all of that, the longest divorce story ever, thank you. From the bottom of my heart. I truly hope you can see that I absolutely love what I do and wake up each day thrilled to get to spend it with couples like you. And thank you for walking with me into this new chapter of my life.