One of the things that my parents always instilled in me, was to never stop dreaming and if I put in enough hard work, those dreams would come true. Owning my own business is the perfect example. From a young age, when I envisioned my future it was not in a career working for someone else. I wanted to make my own schedule doing something that I loved. Now that I've achieved that, I have a list of dream wedding locations in Michigan that I would be thrilled to work at. Of course, there are out of state and international locations as well, but I will save that for another blog post.
Michigan Wedding Venues
1. Planterra Conservatory
For years I have been drooling over photographing a wedding at the Planterra Conservatory. Located in West Bloomfield, they boast a premier greenhouse venue for modern garden weddings. I have read nothing, but rave reviews, however they are on the pricier end of venues in Michigan. Once you see it, you'll understand the price tag! Planterra Conservatory includes all the florals, catering, rentals, and valet which takes a HUGE load off the planning process.
2. Castle Farms
A wedding at a castle without having to leave the country?! Heck yes! I am super pumped to say that I photographed a wedding reception at Castle Farms this fall. Another photographer reached out to me to capture their reception. Last year, they went on an elopement adventure in the UP so now they're celebrating with friends and family. The reception was beyond gorgeous!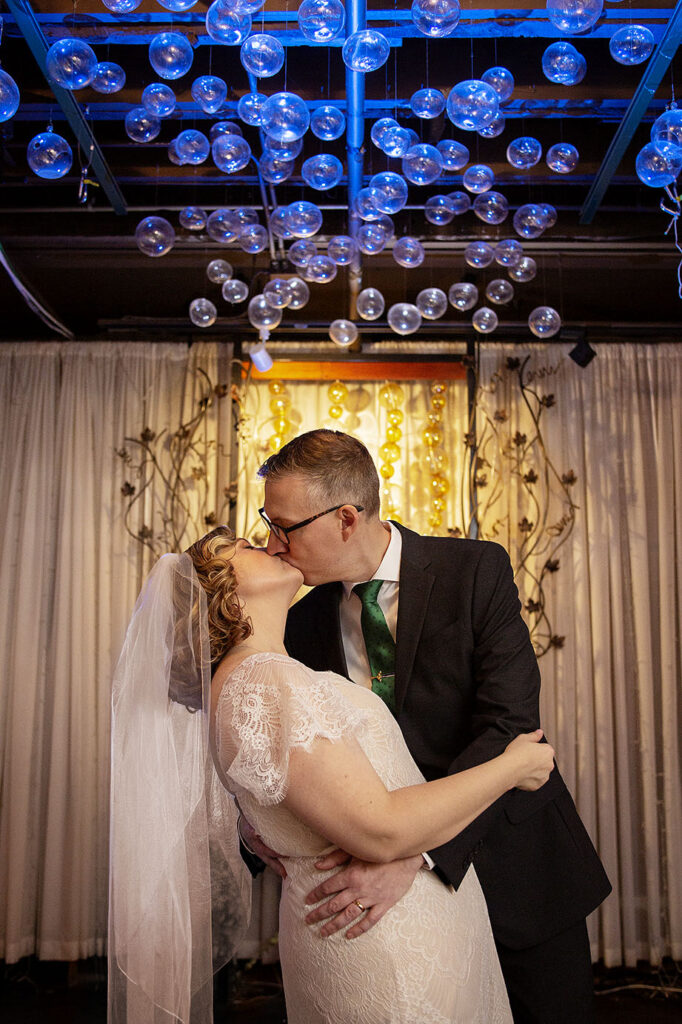 3. Vinology – The Bubble Room
This has been on my list for a few years as well, and I finally get to make my dream come true in November. The Bubble Room at Vinology is the perfect location for a romantic micro wedding. Hand-blown, glass bubbles adorn the ceiling and the exposed brick walls really brings home the intimacy. Vinology also has a couple other rooms available for Ann Arbor weddings, but the Bubble Room has my favorite atmosphere by far.
November 2021 Update: I had the honor of photographing Allie and Alex's wedding in the Bubble Room which was beyond stunning in person! I am so excited to share their full wedding with you soon. Also, if you can make the trip there, definitely try their berry French toast. It was *chef's kiss* top notch!
4. The Glass House
While researching Michigan micro weddings, I stumbled across this gem and fell in love. The Glass House is part of a creative community located in rural west Michigan near Grand Rapids. They can host up to 50 guests, but for a little more moving room 30-40 is ideal. The whole vibe is very wild garden/boho, I can just imagine a really chill, down-to-earth couple getting married there. They have Einstein lights that hang from the ceiling making for a warm, soft glow throughout the greenhouse.
5. Pine Knob Mansion
Pine Knob Mansion in Clarkston is a wedding venue I have worked at before, but I would love to go back. It is situated at the top of the highest point in Lower Michigan and has an incredible view of the Pine Knob Golf Course. The getting ready room is one of the best I've seen. It's so spacious and has huge windows that provides perfect natural light. Beyond that, there is not a bad spot for photos anywhere on the grounds. It would be great to be able to have a little more time to explore the area with the couple.
6. Royal Park Hotel
The Royal Park Hotel in Rochester, MI has three areas that they can host a wedding. However I am OBSESSED with their Belgium Glass Conservatory. It has a private view of the gardens and a gorgeous hand-carved Italian fountain, which has the perfect garden party vibe. A plus is you can have an indoor wedding during cooler months and still feel like you're outside.
7. Circ and Root
The Circ and Root venue is in the old Circus Bar spot. They have completely renovated the space and made it into a modern industrial loft with a roof deck. Once the ceremony and cocktail hour is done, head downstairs for dinner and dancing. There's stone walls and dim lighting creating a very romantic and intimate atmosphere. Cool little fact, the location was one of Michigan's first breweries.