I get asked all the time what couples should wear for their summer engagement session (or really for any portrait session for that matter) and I do have a style guide that I send them. I thought it might be helpful to do a semi-regular post on my blog.
A few years ago I was doing What to Wear Wednesday posts on a fairly consistent basis and my customers really liked them, so I decided to start them back up again. This will be my first, of hopefully many, style guides to help you with your outfit choices. I'm not going to post them on only Wednesday's like last time, but you will be able to click a link and see all of them for inspiration.
Rose gold everywhere right now. Even my own wedding ring is rose gold and morganite like the one pictured below! And it just pops against the rich, dark colors of this outfit. The fun and flirty dress is great for keeping cool during the engagement session and even the men's outfit you can switch out the pants for some shorts if you think they might be too warm. When I see these I can picture the session taking place in downtown Detroit amongst the glass buildings, brick, and ending the portraits with a romantic stroll by the River Walk as the sun sets.
Same Love
As we all know, it's been fairly humid this summer. So the flowy fabric of these tops are great for allowing a little extra breeze during the session. I imagine these two ladies are very laid back yet playful. Their summer engagement session is being on the bank of the Huron River. Maybe at Gallup Park in Ann Arbor, with breathtaking golden sunlight drenching the scene. The beautiful Huron River moves calmly in the background and the warm rust of the bridges compliment the pastels of these outfits perfectly!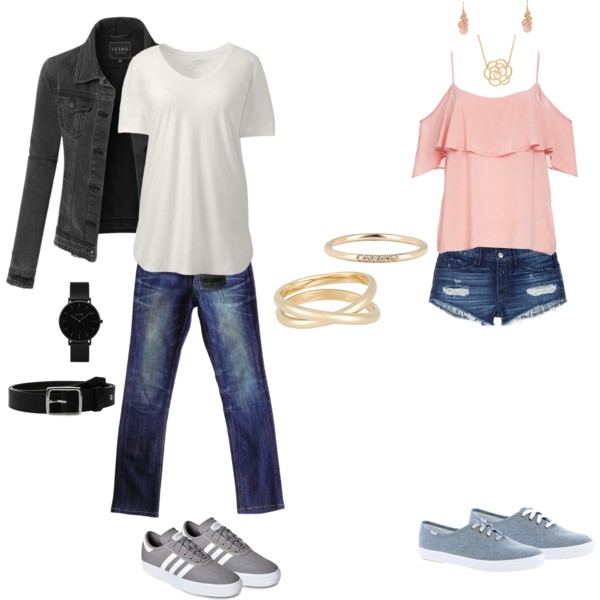 Love is Love
Classy and stylish, these men know their stuff. They have coordinated their outfits using matching colors. All without looking like they just stepped out of a portrait studio circa 1990. I've taken these two sophisticated gentlemen to the Law Quad for their engagement session. Between the stone columns of the old architecture, you can see the love that radiates from their smiles.