COVID has been redefining how couples have been getting married this year and Michigan micro weddings are growing in popularity. Couples hosting smaller weddings have obviously been around for quite awhile, but the whole micro wedding trend is really gaining some traction.
What is a Micro Wedding?
A Michigan micro wedding is a ceremony and/or a reception with less than 50 guests. Sometimes the couple will get married in a private ceremony or elopement and then invite their loved ones to celebrate together. When I was married this is exactly what we did. We eloped in New Orleans and had our honeymoon there. Then the following week when we were back in Michigan, we had a celebration with 20 of our closest family. Honestly, it was great for us. We saved money on the big wedding because we were saving for buying a house. Plus, we could really focus on the details of the day since we didn't have a large space to decorate.
Many guests like micro weddings because they are usually not an all day event. It gives them plenty of time to celebrate with you without the day dragging on too long.
01 | Find a Micro Wedding Venue
The possibilities of venues in Michigan are endless! Any style or vibe you're going for, you can find it. Having a smaller guest count opens up even more places you wouldn't usually think of. I have seen breweries, park buildings, indoor gardens, and even a small clearing in the woods. These types of venues are usually less expensive if not free, which helps keep your overall budget low. WIN!
Some of my favorite places for a Michigan micro wedding are:
02 | Choose a Photographer
This should be an easy choice for your Michigan micro wedding *cough* ahem! No, but for real choosing a photographer is a big deal, and I'm not saying that because I am one. They're the ones that will capture all those precious moments and details of your wedding day. The photos are what you're going to look back on for years to come, so you want to make sure your photographer is the best fit for you.
Some things to consider when looking for a Michigan micro wedding photographer:
Style | Some photographers are very traditional in their approach, whereas others see things with a photo journalistic eye. I like to think that I present a good mix of the two to my couples. Family photos are done traditionally, but the rest of the day is more photo journalistic.
Cost | With COVID causing many weddings to get downsized, photographers have adjusted their packages to accommodate micro weddings and elopements. Check to see if they offer smaller packages to fit your day.
Experience | There is nothing wrong with working with someone that doesn't have as much experience, after all everyone starts somewhere, however ask to see a full wedding. This will highlight a few things: their ability to handle different lighting situations, how well they can pose people, and the consistency of editing throughout. Lastly, no matter how big or small the wedding, there are some things that can only be learned from experience.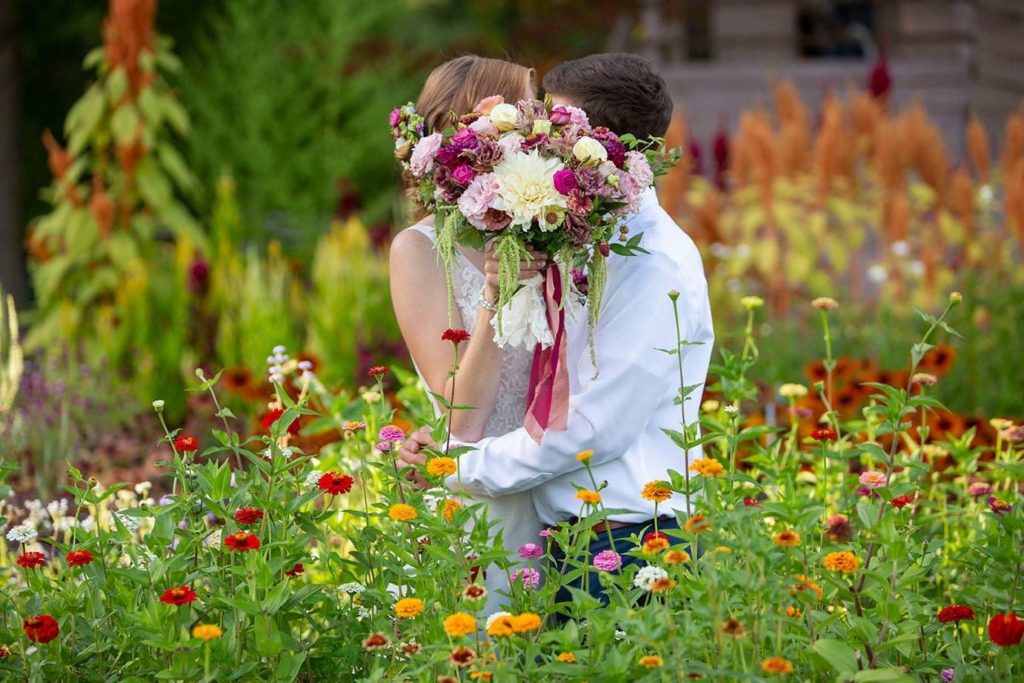 03 | Vibe
This is where the only limit is your imagination! You can make your Michigan micro wedding anything you can envision. Not to mention with the money you've saved on the venue and other vendors, you can use it on all those beautiful details. Whether you want boho chic or to surround yourself in nerdom, it's the perfect time to fully follow through with your theme. Some couples will choose to play off their venue, take for instance the couple below. They were married on their family's flower farm and went full out vintage elegance. Amongst the hundreds (actually probably thousands) of blooms were touches of lace and vintage glass. It was beyond anything I have actually seen and SO beautiful, but completely fit the couple and their personality.
04 | Guest List
The guest list seems to always be a point of contention between families. Parents want to invite their friends, yet the couple might not really know those people or have the budget to feed everyone. It seems silly to have people at your wedding that are barely acquaintances. Michigan micro weddings are a great way to narrow down the list and have only the people in your lives that are truly there to support you and your partner.
Another perk of having a smaller guest list is that you will actually have time to chat with everyone that came. After doing this for twelve years, I see that many couples spend most of their reception getting pulled in a hundred different directions by guests that (understandably) want to congratulate the newlyweds and chat for a few minutes. It can be very overwhelming!
So the Adventure Begins
You and your partner get to plan your Michigan micro wedding. Following these steps should at least get you started in the planning process. There are a few key vendors not on the above list such as caterer, DJ, and officiant, but I think you can figure those out. Pro tip: to have a more intimate micro wedding, have a friend or family member get ordained to marry the two of you. Best wishes for your planning!